NEoN Digital Arts Archive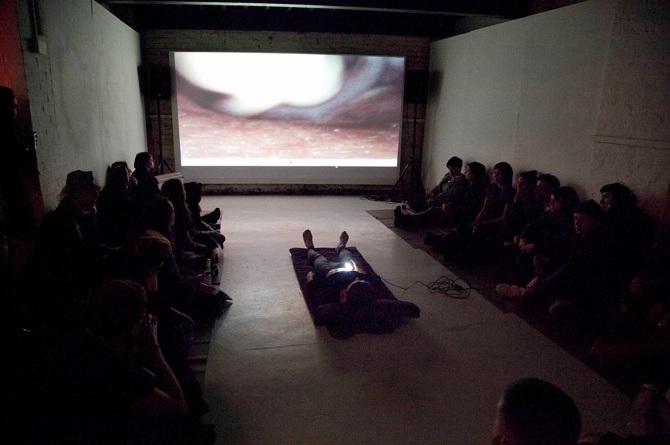 Umbilical
"M-othering the more-than-human"
Umbilical stories, navel sensualities and reproductive desires. In this performance piece, Niya B is examining the post-reproductive body and a deep sense of longing to nurture life. Revitalising her umbilical cord, she is looking to reconnect with the m-other.
Following her work Collective Lover, where Niya B explored intimacy with plants, desire for the more-than-human and the possibility for an eco-gender subjectivity, Umbilical now explores the reproductive instincts and mothering desires within the context of climate change, human overpopulation, and the requirement of sterilisation for transgender people (only abolished by the European Court of Human Rights in 2017 but that is still in place in many countries all over the world).
'Umbilical' is a 10-minute performance piece, with pre-recorded soundscape and voice-over accompanied by live microscope projections. The soundscape consists of the artist's synchronised breath, layers of voice-overs and narrative. The soundscape was created by sound artist and music producer Lottie Lou Poulet, who is a trans woman herself. For this collaboration, she has used the artists own voice in combination to the 'digital waste' derived from software that cleans up sound recordings.
About the Artist
Niya B is a transfeminine artist interested in change and shifting paradigms. Experimenting with original creative processes and media Niya B explores the body and its context, as a form of expression and manifestation of culture, ideology, gender, sexuality, social ethics, systemic issues and collective aspirations.
Exhibitions and performances include the International Print Biennale in Newcastle (2011), the 5th Moscow Biennale for the group exhibition Biopolitics (2013), the 5th Thessaloniki Biennale, for the group exhibition 'Identalterity' (2015), Trans:plant (2016), Queer Art(ists) Now (2017), Fringe! Queer Film & Arts Fest (2016), Cruising Garden (2017), Emergency 2018, Translucent-Leyden Gallery (2018), Sluice Gallery (2019), Unfix Festival (2019), and Eco-futures/Deep Trash (2019).
Image credit: Zoe Wright (Translucent, Sluice Gallery)