NEoN Digital Arts Archive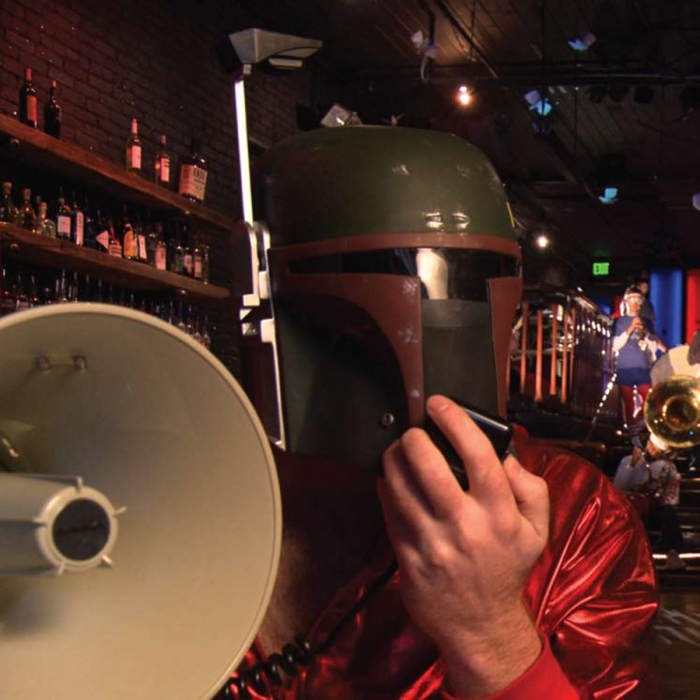 NEoN at DCA
THE PEOPLE VS. GEORGE LUCAS
Anna Higgs from Quark Films introduces a special screening of The People vs. George Lucas.
Revered by some, feared and demonized by others, George Lucas is undoubtedly the most talked about and criticized filmmaker in movie history. So why have millions of Star Wars fans turned against him to decry the release of the Special Editions and the Prequel Trilogy? Why is George Lucas the constant target of bloggers, critics, and self-proclaimed devotees? And why are millions of others staunchly prepared to defend him in the face of innumerable accusations? The People vs. George Lucas aims to answer those questions and to impartially deconstruct the cultural legacy of a man whose life, feelings, and creative impulses remain largely shrouded in mystery.
Paying tribute to the YouTube culture in unprecedented fashion, this groundbreaking documentary film features professional HD footage and amateur homemade videos in equal amounts to craft one of the most original, entertaining, cinematic, and widely anticipated portraits in the history of the medium – the world's first digitally democratic documentary.
The People vs. George Lucas explores the titanic struggle between a Godlike filmmaker and his legions of fans over the most popular franchise in movie history. The film combines key testimonies from the likes of Gary Kurtz (Producer of American Graffiti, Star Wars, and The Empire Strikes Back), Neil Gaiman (The Sandman, American Gods), Dave Prowse (aka Darth Vader), Anthony Waye (Executive Producer of the Bond franchise), and Dale Pollock (George Lucas's Biographer, Author of Skywalking) with fan footage from around the globe, and impassioned testimonies from George's staunchest fans and foes.
Chock-full of impassioned interviews, powerful musical performances, never-before-seen polaroids from the original Star Wars continuity script, stop-motion, and 3D animation, Super 8 action figure films, puppet rants, and much much more, The People vs. George Lucas, is a hilarious and surprisingly moving look at what it means to truly be a fan.
Certificate: (PG)
Director: Alexandre O. Philippe
Language: English Runtime: 93 mins
Venue: Dundee Contemporary Arts
Date: 11th November 2010
Time: 8pm
DISCOVERY EXHIBITION
George Barber / The Long Commute
Jaygo Bloom / Arcade
This year, for the first time, Discovery Film Festival will also occupy DCA's Galleries, with exciting new work by two of the UK's most interesting video artists.
George Barber is one of the most widely seen international video artists working today, with prominent screenings on Channel 4 and in galleries including Tate Modern. At DCA, Barber's 1001 Colours Andy Never Thought Of is a clever update on Warhol's Marilyn paintings and his recent Automotive Action Painting, is a brilliant play on Jackson Pollock's abstract expressionism. His 1980s Skratch videos heavily influenced pop music in terms of sound and image and were described by NME as 'televisual punk rock'.
Today we can see his influence not only on artists but also on the world of advertising.
Jaygo Bloom studied Sculpture at Glasgow School of Art and Electronic Imaging at Duncan of Jordanstone College of Art and Design, Dundee. Bloom has produced works for many organizations in recent years, including New Media Scotland and Glasgow Science Centre, as well as dazzling club and concert environments, including Franz Ferdinand's world tour.
He makes bright, accessible video works harnessing new and old technologies. For DCA, he is working on a double-sided projection inspired by the early arcade game Asteroids and a sound and vision work in collaboration with vocalists from the Royal Festival Hall.
Venue: Dundee Contemporary Arts
Date: 16 October - 14 November
Time: Tuesday - Saturday 10.30am - 5.30pm,
Sunday 12 noon - 5.30pm, open late Thursday until 8.30pm