NEoN Digital Arts Archive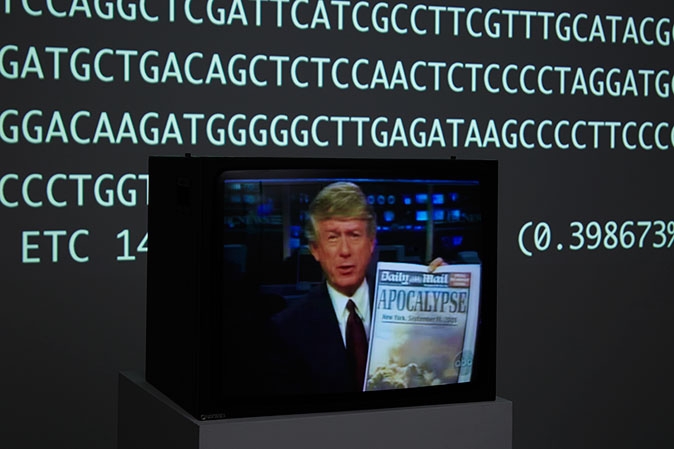 STUTTERER
Thomson & Craighead (UK)
THE MCMANUS. PART OF THE GROUP EXHIBITION FUTURE ARTIFACTS
Albert Square
Meadow side
DD1 1DA
An instructional artwork – a poetry machine that uses the human genome like a music score to play back a self-assembling video montage spanning the thirteen years it took the Human Genome Project to complete the first documented human DNA sequence. Commissioned by LifeSpace with support from the Wellcome Trust, and loaned from the collection of the University of Dundee, the work uses found footage of English-language television from 1990-2003 to play the score of the human genome sequence from start to finish, taking a human lifetime to do so.
Thanks to Leisure & Culture Dundee
About the Artists:
Jon Thomson (born 1969) and Alison Craighead (born 1971) are Scotland and London-based visual artists, who work with video, sound and the internet. They have been working together with video, sound and the internet since 1993. Much of their work to date explores how technology changes the way we perceive the world around us. They use live data to make artworks, including "template cinema online artworks" and gallery installations, where networked movies are created in real-time from online material such as remote-user security webcams, audio feeds and chat room text transcripts.
Credits:
Programming by Matt Jarvis.
Supported by a Wellcome Trust Arts Award, Stutterer was commissioned by LifeSpace Science Art Research Gallery at the University of Dundee for their new Discovery Centre for Translational and Interdisciplinary Research in the School of Life Sciences, which opened October 1 2014.