NEoN Digital Arts Archive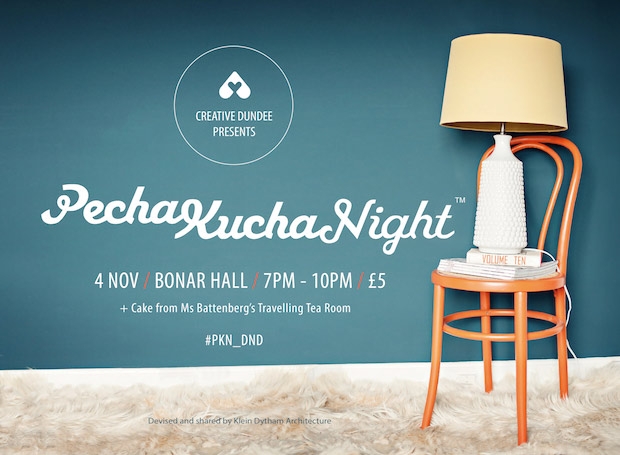 PECHA KUCHA
Presented by Creative Dundee
Pecha Kucha Night Dundee is an opportunity for anyone to come along and hear about what's happening locally, from around 12 totally diverse individuals who speak about whatever they fancy! You, plus hundreds of other people get to sit back, listen, laugh and enjoy… PKN is part of a massive global network, which you can find out more about here: Pecha Kucha Nights.
PKN is a really great behind the scenes tour and is genuinely aimed at anyone and everyone. At PKN we also have a regular 'spread the word' feature, giving anyone the chance to grab the mic and shout out the events and opportunities that you have got coming up…
We're also really pleased to have cakey goodness, Ms Battenberg's Travelling Tea Room joining us at this next event, they'll be dishing out free cakes, since it's our birthday!
A huge thanks to designer Sooz Gordon and photographer Julie Christie for the great PKN artwork.
For this edition of PKN NEoN has invited to the conversation
Oliver Mezger
(Artist),
Nora O'Murchu
(Curator), and
Mark Daniels
(New Media Scotland).
Event information
Title: Pecha Kucha
Venue: Bonar Hall
Where: University of Dundee, Park Place
When: Tuesday 4th November
Time: 7pm – 10pm